Extended Validation SSL
Activați bara de adrese verde pentru cea mai mare încredere și conversii
Ce este Extended Validation SSL?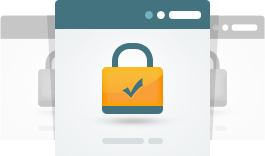 EV SSL este un certificat de cea mai înaltă clasă de SSL disponibilă astăzi și oferă mai multă credibilitate și încredere site-ului dvs. în comparație cu utilizarea unei organizații sau a unui certificat SSL validat de domeniu. Validarea extinsă SSL activează bara de adrese verde și afișează numele companiei sau al organizației dvs. în bara de adrese a browserului. Acești indicatori vizibili de securitate vizuale permit vizitatorilor să știe că s-au luat măsuri suplimentare pentru a confirma site-ul pe care îl vizitează, sporind încrederea utilizatorilor în site-ul dvs. și credibilitatea acestuia - de aceea majoritatea companiilor și organizațiilor mari aleg certificate EV.
Recommended Use Cases
Business-critical
domains
eCommerce
New account
signup pages
Contains Your EV Authenticated Organization Details
Certificate details indicate your website is using an Extended Validation SSL Certificate and include the issuing CA, validity status, and expiration date.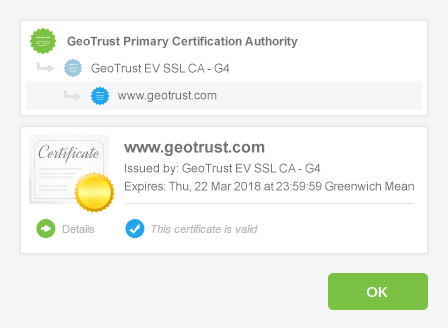 Prominent Visual Identity
Increase trust and confidence in your website with full identity verification and prominent visual features.
Trust Site Seal
Our SSL Certificates come with a trust seal that has been proven to increase visitor confidence and customer conversions.
$1.5m Warranty
EV Certificates come with a $1.5m warranty that covers data breaches caused due to a certificate flaw.
Certificate Features
Secure online transactions
99.9% Browser Compatability
Our SSL certificates are from some of the most trusted brands in Online Security.